Our Vision
Our Mission
About the Company
Ian Percy Bio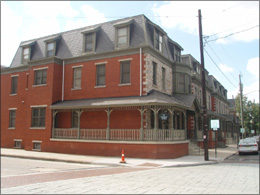 · Work with our clients to efficiently develop projects that enhance our client's business, create successful communities and are sustainable.
Improve our client's and their customers opportunities.
Demonstrate our core values with clients, vendors and alliances to build long lasting client relationships.
Advance its reputation as a creative real estate solution provider by expanding its knowledge and competencies through network, education and personnel.
CAMDEN, LLC is in the business of:
Innovating and delivering Financial, Intellectual, and Symbolic capital risk containment solutions for the acquisition and development of its clients real estate needs
CAMDEN, LLC does this by:
Utilizing its proprietary RiskGuard process to timely identify priorities and engineer strategies that contain our customers capital risk.
Advance the application of green technology with cost benefits, delivering LEEDS and green building solutions for residential, retail and commercial projects.
Advance our clients goals and profitability with our extensive network of resources.
Principal and Managing Partner
Owner and Managing Partner of Camden LLC, Mr. Percy possesses over forty years of richly diverse experience in the construction and development industries. He is a proven leader in managing and directing development, design and construction of projects. His responsibilities often include: initiating, managing and establishing standards and control procedures for Camden's clients projects as well as their profitability, cash flow and overhead containment. He is in charge of corporate management and administration, strategic planning, business development and marketing. He oversees clients pre-construction needs, project acquisitions, negotiation, relationship development and the contracting processes. Mr. Percy places high priority on continued training and career development of many project managers, superintendents, administrators. Mr. Percy's guidance and leadership has significantly strengthened Camden LLC and its clients businesses by coaching project management teams.
By providing early estimates, bidding, buyout procedures and bid strategies, Mr. Percy has enabled Camden LLC's clients to acquire and build numerous profitable projects. His extensive experience in site and building analysis, due diligence, governmental agency processes for land, retail, institutional, commercial, medical office, tenant improvements and renovations has proven to be invaluable to Camden LLC's clients.
In his role as Project Executive for Camden LLC, Mr. Percy is responsible for establishing a projects feasibility, managing project entitlement, zoning, planning, permitting, wet and dry utility negotiations, transportation issues, conceptual estimates, proformas and cash flow, team assembly, including consultant and contractor selection, bidding, contracting and construction management.