CAMDEN, LLC was started in 2005 by Ian Percy after 35 years in the construction and development businesses as a response to the need for controlling and managing the choices made that currently produce risk and cost in real estate acquisition, development and construction. Since its inception CAMDEN, LLC has managed the development and construction of over $120 million in real estate related transactions. The projects have varied in size from $200,000 to $64,000,000
St. Francis Medical Campus, Colorado Springs, CO
CAMDEN, LLC managed the development and construction of $6 million in infrastructure for the new St. Francis Medical Campus and the adjacent landowners. This required due diligence and entitlement, coordination of annexation, rezoning, environmental cleanup and FAA licensing. Camden LLC managed the interests of the various land owners providing precise detail of the use of combined escrow account funds. It also included the selection of engineers, coordination of design permitting and construction of water transmission lines, water distribution, sanitary sewer, storm sewer, negotiating and purchasing primary and redundant power and gas distribution systems, coordination and installation of telephone and data communications, and the construction of arterial and private roads. CAMDEN, LLC negotiated with the City, County, CDOT and a Metro District the offsite highway work and the client's participation in all fees. The development required establishing recovery agreements for utilities with subsequent developers.
Mountaineer Square, Mt. Crested Butte, CO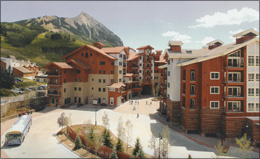 CAMDEN, LLC managed the construction document phase of design and associated cost containment, then construction of the $64 million Mountaineer Square. This is a mixed use project involving underground parking, hotel/condominiums, retail, restaurants, skier services and a large conference center. CAMDEN, LLC also prepared and issued RFP's, for the design and construction of the Cimarron Building at Mt. Crested Butte, subsequently receiving, analyzing and recommending architect and contractor selections and management of the design process to budget. Market conditions have delayed this project further.
Sisters Grove Pavilion, Colorado Springs, CO
CAMDEN, LLC managed the development, construction and tenant fit out of the 117,000sf Ambulatory Service, Imaging Center and Medical Office Building adjacent to St. Francis Medical Campus. The work included preparation of the budget, proforma and financing options, preparation of the master lease and negotiations with the user groups. The project was fast tracked and CAMDEN, LLC prepared and issued RFQ's and RFP's, received, analyzed and recommended the General Contractor selection for the Core and Shell. Subsequently CAMDEN, LLC bid the construction of the Tenant Finishes and provided Construction Management services throughout.
The Marketplace at Austin Bluffs, Colorado Springs, CO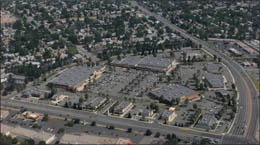 CAMDEN, LLC managed the pre-construction, budget preparation, schedule and all public/private utility negotiations for the demolition and reconstruction of this unique 200,000sf shopping center. The success of the project included budgeting and establishment of a Business Improvement District and the creative reuse of existing structures. CAMDEN, LLC oversaw the selection of engineers, landscape designer and General Contractor, and that the design was developed to the budget and the construction was managed to schedule and cost.
Leadership and Company Development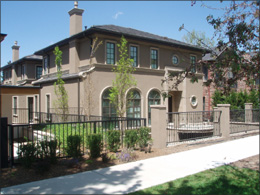 CAMDEN, LLC is engaged by a land owning family to change their business model from a family concern to a professionally operated business enterprise. In the process CAMDEN, LLC has advised them on numerous aspects of real estate development and management including leadership, coaching, and risk management in business organization, leasing, partnerships, and design and construction professional selection. CAMDEN, LLC assisted in a $2,000,000 renovation of a retail/office center, negotiations with government agencies on property acquisition and participation on blighted area renewal, the inclusion of property on the National Historic Register and establishment of recovery agreements and Metro districts. In addition CAMDEN, LLC has created development opportunities for them through operating agreements with other developers to find suitable sites for custom home development and is managing their interests in these projects.
In addition to CAMDEN, LLC the following is a sample of Ian Percy's experience:
OFFICE:
High Rise:
Dominion Plaza: Twin 20 & 30 story towers, Denver CO.
Republic Plaza: 56 story, 1,400,000 sf, Denver, CO.
Hudson Bay: 20 story, 225,000 sf, Denver, CO.
Mid Rise:
1899 Wynkoop: 9 Story, plus 3 below grade, 220,000 sf, Denver, CO.
1890 Wynkoop: 8 story retail, garage and lofts, 160,000 sf Denver, CO.
Peakview Plaza: 10 story, 256,000 sf, Englewood, CO.
Low Rise:
Solarium Center: 4 story, 175,000 sf, building, 20,000 sf atrium, and 300 car parkade, Denver, CO.
Shea Properties: 4 story, 123,000 sf, Highlands Ranch, CO.
IHS: 3 story, 90,000 sf, inc. full T.I., Inverness, CO.

---

RETAIL:
Denver West Village: 270,000 sf, power center with seven major box users, fifteen inline tenants and six pad sites, Denver, CO.
Tivoli Brewery Mall: 356,000 sf, conversion and addition to an 1880 brewery, Denver CO.
Sixteenth Street Retail and Food Court: 180,000 sf, of multi level retail and restaurants, Denver CO.
Cheyenne Center: 77,000 sf, grocery and strip center, Colorado Springs, CO.
Wal-Marts, Sam's and Pace: inline and stand alone boxes totaling over 400,000 sf, in PA. and N.J.

---

RESORT:
Beaver Creek Village Hall: 156,000 sf, retail, convention and condominium project, Avon, CO.
The Ridge at Tahoe: 118 luxury condominiums and clubhouse, Heavenly Valley, NV.
Elk Run: 22 Custom Townhouses and a Custom home, Copper Mountain, CO.

---

RENOVATION:
Tivoli Brewery Mall: (see previous listing under retail).
Cheyenne Center: (see previous listing under retail).
Tulsa Airport: 250,000 sf, terminal and concourse renovation with new tunnels and baggage handling buildings, Tulsa, OK.
Oxford Hotel: renovation of a 17th century hotel into apartments for the elderly, Oxford, PA.
New Freedom Theater: renovation of the historically significant Forrest Theater into a drama School, apartments and artists studios, Philadelphia, PA.
Stapleton Airport: 216,000 sf, addition to main concourse and mechanical spaces, Denver,CO.
Sara Allen: conversion of Philadelphia Women's Hospital into eighty-seven HUD 202 units, Philadelphia, PA.

---

HEALTH CARE:
Applewood Manor: 256 apartments, activity center, ambulatory and intensive care facility, Freehold, NJ.
Frankford Hospital: nuclear medicine facility and numerous other projects, Philadelphia,PA.
Crozier-Chester Medical Center: numerous projects including professional office buildings, radiology, skilled nursing facility, and maternity wing, Upland, PA.
Our Lady of Lourdes Medical Center: major renovations including new kitchen, servery, and cafeteria, Camden, NJ.
Brandywine Hospital: post-partem facility, Brandywine, PA.
St. Francis Medical Campus: 117,000sf MOB including imaging/diagnostic and ambulatory surgery center, Colorado Springs, CO

---

R & D:
Hewlett Packard: 300,000 sf, research and development, offices and production facility, Fort Collins, CO.
Fairchild Semiconductor: 40,000 sf, research and manufacturing facility, Portland, ME.
Air Products: 10,000 sf, animal laboratory, Trexlertown, PA.

---

PLANT:
Mack Truck: 1,000,000 s.f., truck manufacturing plant, Macungie, PA.
Sweetwater Uranium Mine: 35,000 c.y., of building and equipment foundations and process tanks, Yellowcake Production Facility, Rawlins, WY.
St. Regis Paper Company: #5 paper machine foundations and structure, process and powerhouse piping, Bucksport, ME.
Continental Can: powerhouse structure and paper machine rebuild,: Savannah, GA.

---

AIRPORT:
Tulsa, OK: (see above listing under renovation).
Stapleton, Denver, CO: (see above listing under enovation).

---

SCHOOL:
Souderton: 220,000 sf, renovation and natatorium addition, Souderton, PA.
Lincoln University: 64,000 sf, classrooms, laboratories and auditorium, Oxford, PA.
Topton Elementary: 75,000 sf, renovation and addition, Topton, PA.

---

DISTRIBUTION:
U.S.P.S.: 600,000 sf, general mail facility and 24,000 sf, vehicle maintenance facility, Harrisburg, PA.
U.P.S.: 148,000 sf, package handling facility and maintenance area. Mt. Olive, NJ.

---

LAND DEVELOPMENT:
Lakeland, FL: Rezoned 34acre parcel for development into separate multifamily and retail projects. Managed the concept design 0f both, and pricing of the site and installation of the infrastructure.
Crown Point, Parker, CO: A 272 acre multi use parcel including retail, apartments, and institutional uses. Performed, rezoning, platting, re-platting and due diligence resolving numerous issues with all Federal, State and Municipal agencies, public utilities, buyer, seller and lenders. Bid and managed the construction of $8,000,000 + in infrastructure work.
Second and Lomas, Albuqueruqe, NM: Negotiated partnership, land subordination, design and permitting for a10 story office building.
Greeley, CO: a 38 acre retail site, generated all proformas and cost models for initial buyer, subsequently assisted in development of project through early budgeting of vertical and horizontal construction. Assisted in negotiations with adjacent landowners and City on shared costs, access, and development agreements with all appropriate exhibits.